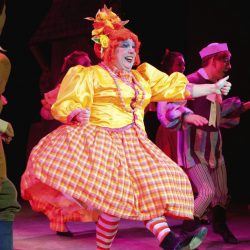 Welcome to Brian Luff's panto scripts web site. We have seven scripts available to licence for the 2018 season. There are hilarious new versions of Sleeping Beauty and Dick Whittington and a brand new panto version of A Christmas Carol called Mr Scrooge
One again we're offering Brian's versions of Jack & the Beanstalk and Cinderella, and we highly recommend one of our most popular panto scripts Aladdin & the Pirates which has been produced all over the UK for the last 3 years.  These family panto scripts all contain completely new comedy routines. Plus, updated topical references and of course all the traditional trimmings. So plenty of dames, principal boys, animal costumes, villains to boo and fairies & genies to cheer.
Brian Luff's panto scripts are both lovingly traditional and fresh, original and modern. All of Brian's scripts are offered to licence directly from this web site.
Panto scripts you can trust

Brian is a former comedy writer for Channel 4 and has written for numerous television comedy shows. He grew up with pantomime. His uncle appeared in many pantos at the London Palladium and the Golders Green Hippodrome. He first appeared in a panto himself at the Mountview Theatre in North London. Brian's own daughter has since followed in his footsteps, appearing in many pantomimes at theatres in and around Dunstable.
History of Panto  |  It's Behind You!  |  More from Brian Luff  |  Podcast