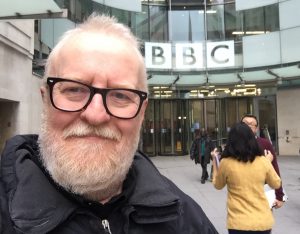 Comedy writer Brian Luff (AKA indie television producer Brian West) co-wrote the cult Channel 4 comedy series Pets. After starting his career as a TV researcher and journalist, Brian began writing comedy for Simon Pegg's Channel 5 sketch series "We Know Where You Live" and for Lee Hurst's "Saturday Live" on LWT. He has scripted and produced numerous comedy shows at premier Edinburgh Fringe venues as well as writing a critically acclaimed stage comedy "The Moon's Not a Virgin Anymore".
Brian created the Comedy 365 podcast which has had over 11 million downloads via iTunes. He has also edited the official BBC comedy web site and been an occasional visiting lecturer in comedy writing at Bournemouth University.
Since 2015 Brian's panto scripts have been produced in theatres all over the UK.  For the forthcoming panto season you'll find original scripts on this web site for Aladdin, Cinderella, Jack & the Beanstalk, Dick Whittington, Sleeping Beauty and Mr Scrooge.
Go here to listen to a recent radio interview with Brian Luff