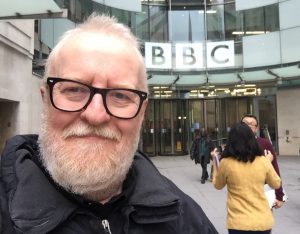 Since 2015 Brian Luff's panto scripts have been produced in theatres all over the UK, and his own original fairy story "Refusal" was nominated for Best Animated Short at the Paris Film Festival in 2021.
Brian is a multi award-winning short film maker and scriptwriter. After starting his career as a TV journalist and cartoonist, he co-wrote the cult Channel 4 comedy series Pets and wrote sketches for Simon Pegg's TV series "We Know Where You Live". He has since scripted numerous comedy shows at premier Edinburgh Fringe venues as well as writing a critically acclaimed stage comedy "The Moon's Not a Virgin Anymore".
Brian has edited the official BBC comedy web site and been an occasional visiting lecturer in comedy writing at Bournemouth University and the BFI.
For the forthcoming panto season you'll find original scripts on this web site for Aladdin, Cinderella, Jack & the Beanstalk, Dick Whittington, Sleeping Beauty, Robin Hood, Snow White, Beauty & the Beast and Mr Scrooge.
Go here to listen to a recent radio interview with Brian Luff