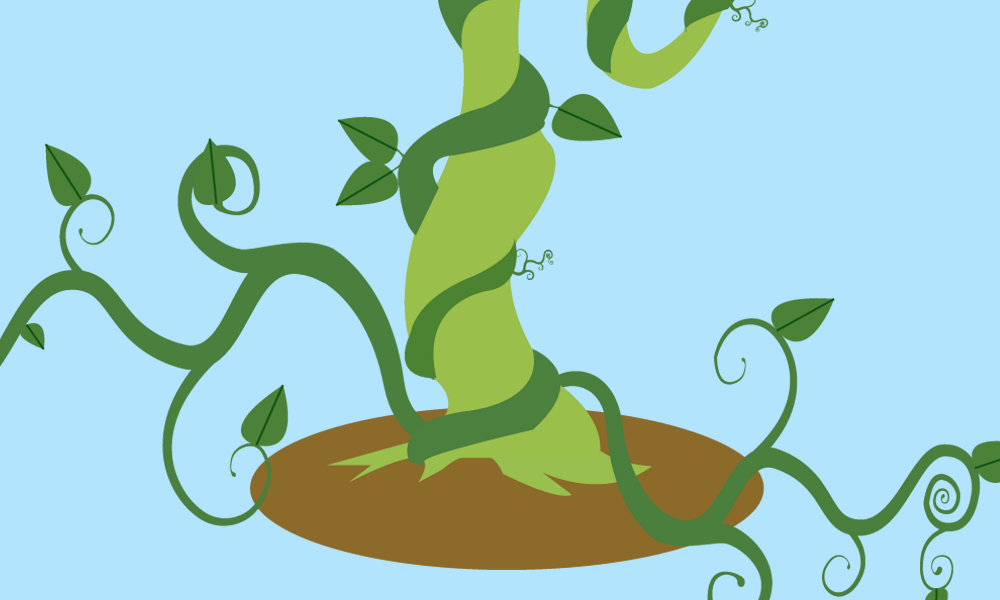 Jack & the Magical Beanstalk
This highly original version of the old classic tale is one of our most popular scripts. There's plenty of fast banter, funny patter and ridiculous rhyme to enjoy.
This is an ideal panto for a comedy double act. The hapless palace guards Kosh & Bosh have numerous routines in which to show off their comic chemistry, including a messy gymnasium scene, a "standing very still" routine and a pacy sketch about some "spies behind the pork pies".
Dame Plump & her farmhand Charlie perform an hilarious new routine called "Counting Potatoes" which may well be destined to become a panto classic, and Charlie also performs a very funny "Eyetest" sketch with Jack and a delightfully muddled "giving directions" routine.
The Giant's henchman Mickey the Menace is surprisingly a Chicago gangster, and the dame stars in a lively sketch of her own in which she teaches the queen to knit.
This is traditional family panto at its best. Download our perusal copy now.
Note: Downloading a perusal script does not convey any rights to perform that script, in whole or in part. In order to perform this script you must first obtain a performing licence. Note: This PDF is copy and print protected.
SYNOPSIS OF SCENES
ACT I
Scene 1 – Plump's Farmyard
Scene 2 – The Royal Palace
Scene 3 – The Meadow
Scene 4 – The Gymnasium
Scene 5 – Plump's Farmyard
ACT II
Scene 1 – In the Clouds
Scene 2 – The Giant's Kitchen
Scene 3 – The Royal Palace
Scene 4 – Dame Plump's Barn
Scene 5 – The Giant's Kitchen
Scene 6 – Plump's Farmyard
Scene 7 – The Royal Palace
Walk Down & Grand Finale
CAST OF CHARACTERS
Jack – Principal Boy
Dame Philomena Plump – Jack's mother
Charlie – Farm hand at Plump's Farm
Princess Davina – Daughter of the king & queen
King William – The King
Queen Matilda – The Queen
Sarah – Princess Davina's Maid
Corporal Kosh – Palace Guard
Sergeant Bosh – Palace Guard
The Giant – A Big Scary Ogre
Mickey the Menace – A Chicago Gangster
Mrs. Blackberry – The Giant's cook
Fairy Tuppence – A good spirit
Esmeralda – Jack's cow
Plus villagers, dancers, singers, scarecrows and palace courtiers.